Eventbrite Advocacy
Join us in supporting policies that power live experiences and strengthen our communities
Are you registered to vote?
Take just a few minutes to complete the form below to make sure your voice is heard!
About Eventbrite Advocacy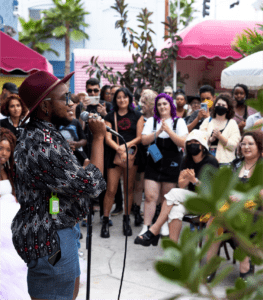 At Eventbrite, our mission is to bring the world together through live experiences. But our work doesn't stop there. We celebrate the powerful role of event creators in our society: fostering connection, powering economic recovery, and bringing vibrancy to our culture and our communities. And we aim to support and empower our event creator community as they harness their passions, expertise, and grit to inspire us with unique shared experiences.
Eventbrite Advocacy brings our community together to champion policies supporting event creators and the live events industry. We amplify our voices on legislation that helps creators host one-of-a-kind live experiences, grow their businesses, and make a positive impact in our communities. Key policy focus areas include:
How We Take Action
Making an impact requires a multi-faceted approach. For each key policy area, we:

Communicate directly with lawmakers to help them better understand creator and community needs.

Rally our event organizers and customers to support legislation that can advance key policy goals.

Join other like-minded businesses and partner organizations to amplify our voices.

Provide resources to our event organizers and community members to raise awareness of issues and opportunities that can affect positive policy change.
How to Use This Resource
We know you are busy. We hope this Hub makes it easy to quickly take action on issues that matter to you. Here's what you can do next: 
Take action today by learning more about 

each policy issue

 and how it impacts your business.

Contact your lawmakers and tell them why these issues are important. For each policy issue, we have provided sample language and emails you can copy or customize to advocate with your lawmakers.

Share your story

 with us so that we can learn more about how these issues have impacted you.

Take our survey

 to share more feedback about the policy issues that matter to you most.
Thank you for joining us
Together, we have the power to make our voices heard and bring positive change to the events community.