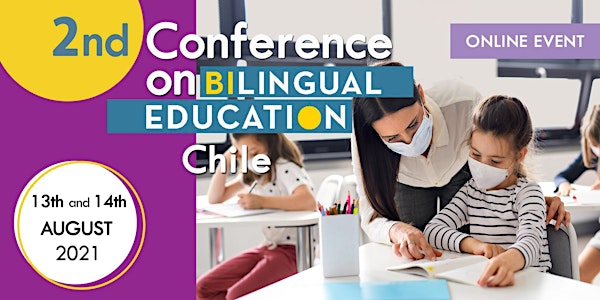 2ND CONFERENCE ON BILINGUAL EDUCATION – CHILE
The 2° Conference on Bilingual Education is about two months away and we look forward to it!
Acerca de este evento
The 2° Conference on Bilingual Education is an initiative run by a group of national and international institutions in Chile, dedicated to bringing together leading academics, researchers, school administrators and teachers to exchange and share their experiences and results on all aspects of Bilingual Education in Latin American and other contexts.
The event will provide a premier interdisciplinary platform for researchers, practitioners and educators to present and discuss the most recent innovations, trends, and concerns as well as practical challenges encountered and solutions adopted in the fields of Bilingual Education worlwide.
Who should attend the Conference
Teachers in the field of dual language, ESL, administrators, university professors, students, researchers, advocates, and policymakers.
Modality for Participation
All-Access Pass U$10 (*)
Access to Links of recorded presentations for 30 days after the event
Access to a pdf version of the presentations after the event
Professional Development Certificate sent at the end of the event
Enter a raffle for a full scholarship for a CPD Programme in CLIL
Scholarship Fundraising Project 2021
(*) As of August 2021 the total gross profit of the Conference will be used to fund scholarships for teachers working in poor school districts around LATAM. Candidates will be chosen to participate in the CERTIFICATE IN TEACHING METHODOLOGY FOR BILINGUAL EDUCATION CPD Programme held by ACHNAP in agreement wth CUP. 20% of the scholarships will be part of a public raffle which all conference attendees will enter automatically the moment they buy their tickets to the Conference. The results of the raffle wil be notified publicly.

ABOUT THE INTERNATIONAL SPEAKERS
Jorgelina Carlassare, Argentina
She graduated as Profesora de Inglés, Universidad Nacionalidad de Mar del Plata, and Licenciada en Educación (Universidad Virtual de Quilmes). She holds an M.A. in Teaching of English as a Foreign Language, Universidad de Jaén, Spain. She has been a lecturer in Fundamentos de la Enseñanza y Aprendizaje del Inglés and Estudios Interculturales in ISFD 19. She has worked in Teacher Development Programmes for the Ministry of Education in Provincia de Bs. As. She is an ELT Consultant and has facilitated British Council's Reading Groups. Currently, she is a lecturer in the Licenciatura en Enseñanza del Idioma Inglés como Lengua Extranjera at Universidad Pedagógica. She is the Head of Studies at TEC School of English and the Academic Director of SELT Exams. She is the author of Art and Communication On Stage (Pearson, 2000) and Welcome to English 3 (shortlisted for the ELTons 2010). Her main areas of interest are professional development, material design, assessment and CLIL.
Simon Lind, UK
Senior International Education Consultant with Cambridge University Press, UK. Simon has more than 15 years of experience teaching and leading departments at primary and secondary private and international schools in the United Kingdom and Africa. As Senior International Education Consultant with Cambridge University Press Simon has worked for over 6 years helping Cambridge International Schools around the world embedding Cambridge resources and active learning strategies into their unique situations, including designing and leading innovative teacher training in South East Asia, Pakistan, India, Africa, Latin America and Europe.
Ricardo Morales, Mexico
He is an international speaker and teacher trainer who for the last 20 years has been actively involved in digital and online education for different private language institutions in Mexico and Latin America. Alternatively, he has developed training modules and ESP programs for public institutions in Mexico. He is currently the Academic Services Manager at Cambridge University Press Mexico. He has devoted most of his energy to help teachers make the most out of their talents through professional development and quality edtech. He strongly believes that education plays a pivotal role in making a better world.
André Hedlund, Brazil
He is an EFL teacher with 15+ years of experience in schools and universities. He holds a BA in International Relations and an MSc in Psychology of Education from the University of Bristol, England, as a Chevening Scholar. He has worked as an academic consultant and teacher trainer for Nat Geo + TED Talks. He advocates for the online educational platform International Education and Resource Network (iEARN). He is the current president of Partners of the Americas Goiás. A Michigan Certificates Examiner, a member of BRAZ-TESOL's Mind, Brain, and Education SIG. He is a senior mentor for the Edify Bilingual Program. He has been a speaker in conferences in Argentina, Colombia, Mexico, Portugal, the UK, Poland, Spain, Romania, Montenegro, Slovakia, and Hungary. His dream is to change education worldwide through the concepts of MBE.
Antonella Sorace, Italy
Antonella Sorace (PhD, University of Edinburgh) is Professor of Developmental Linguistics at the University of Edinburgh. She is a Fellow of the Royal Society of Edinburgh and a Fellow of the Royal Society for the Encouragement of Arts, Manufactures and Commerce. Her research focuses on a number of interrelated questions that bring together linguistics, experimental psychology and cognitive science. Her research achievements and publications span different sub-fields of scientific enquiry. She is a world leading authority on bilingualism over the lifespan and is particularly well known for her studies of exceptionally talented adult second language speakers; for her research on the changes ("attrition") that take place in the native language of advanced second language speakers. She is also internationally known for her contribution to language typology, especially for her research on constrained variation at the lexicon-syntax interface, which she has investigated in many languages, and her studies of gradience in natural language. She is the founding director of the information and consultancy centre Bilingualism Matters (www.bilingualism-matters.ppls.ed.ac.uk) and was awarded a Beltane Fellowship for Public Engagement.
Nevenca Cerna Cayullán
De origen mapuche pewenche, oriunda de la novena región de Chile, Tracura, Lof Tranol Alonso, la especialista es hablante del mapuzugun como primera lengua. Es educadora tradicional, traductora, interprétate y experta en locución, audio guías a nivel nacional e internacional. Ha participado en varias confesiones de textos de la lengua mapuche y aimara. Formada también como administradora pública, actualmente se desempeña como Coordinadora Regional del Programa de Educación Intercultural Bilingüe del Ministerio de Educación de la Región Metropolitana. Desde allí trabaja en la revitalización de las lenguas de los nueve pueblos originarios de Chile, reconocidos por la Ley 19253, y la instalación de la asignatura en establecimientos educacionales con un alto porcentaje de matrícula indígena.
ABOUT THE PANEL OF EXPERTS
Billy Forward
Teacher Trainer and Support CoordinatorUniversidad Chileno BritánicoVicepresidente IATEFL Chile
Matías Contreras
Docente de inglés y Jefe de Unidad Técnica ProfesionalEscuela Edmundo Vidal Cárdenas, Peralillo, VicuñaPrograma We Learn – Fundación Oportunidad
Isabel Quiroz
Coordinadora Académica Inglés 1º – 4º Básico
Colegio Huelén – SEDUC Chile
Nevenca Cerna
Coordinadora Programa de Educación Intercultural Bilingüe
Secretaría Ministerial de Educación
Ministerio de Educación, Gobierno de Chile
Jorgelina Carlassare
Docente en Licenciatura Enseñanza de Inglés
Universidad Pedagógica, Mar del Plata, Argentina
Carla Palma
Docente en Pedagogía en Inglés
Universidad Alberto Hurtado
Vice Presidenta TESOL Ch