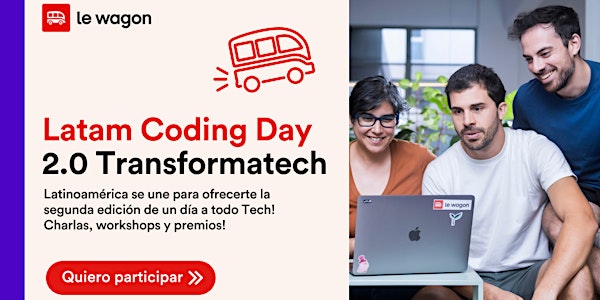 LatAm Coding Day 2.0 - TransfórmaTech
Latam Coding Day 2.0. es un evento que busca acercar a más personas para desarrollar las habilidades tech más demandadas!
By Le Wagon Santiago - Coding Bootcamp
Date and time
Saturday, June 10 · 12 - 7pm -04
Location
ONLINE REMOTE Santiago, 0 Chile
About this event
¡Ha llegado la 2a versión de Latam Coding Day! Latam Coding Day 2.0 es un evento que busca acercar a más personas al mundo de la programación, desarrollo web, diseño de producto, análisis y ciencia de datos. 🤩
¿Quiénes pueden participar?
Curios@s intelectuales, personas con espíritu de emprender, que busquen un nuevo reto profesional, interés en convertirse en nómadas digitales y deseos@s por involucrarse en el mundo Tech. 💻
Si siempre has querido comprender más sobre Ciencia de Datos, aprender a programar o desarrollar un producto digital, ¡lo podrás lograr en este evento! 🚀
Tendrás acceso a:
Charlas con expert@s en tecnología 👩🏽‍🎓
Acceso gratuito a workshops prácticos de Le Wagon, Bootcamp #1 en programación 🥇
Oportunidades en ganar distintos premios (Créditos AWS, Becas en Bootcamps de Le Wagon, entre otros) 🎁
Espacios de networking 🌐
AGENDA
12:00 - ¡Empezamos!
12:15 - Importancia de aprender a programar - Conoce las historias de personas que cambiaron de carrera y aprendieron a programar.
13:15 - Mujeres en Tecnología (panel) 👩🏽‍💻
14:00 - Workshops - Elige el workshop de tu interés:
Análisis de datos para principiantes- Aprenderemos con casos concretos 📊
Comprendiendo la Ciencia de datos 👨🏽‍🔬
Desarrollo de producto digital 💎
Introducción al Desarrollo Web y programación 🎯
15:30 - Break ⏸️
16:30 - Oportunidades laborales en el mundo Tech 🌎
17:15 - Meet-up / Networking (Presencial) para conectar con el ecosistema tecnológico y emprendedor de Chile! 🇨🇱
Modalidad: Online y presencial para quienes estén en Santiago en UDD (Av Plaza 680, 7610658 Las Condes, Región Metropolitana)
¡Reserva tu lugar!
Sábado 10 de junio - A partir de las 12:00am - 7:00pm
Este evento está organizado en conjunto con Universidad del Desarrollo, podrás participar de forma presencial del evento y beneficiarte del networking y de ver la final de Champions League 🙌🏼.
Si estás en Santiago de Chile, podrás participar en el evento de manera híbrida en UDD(Av Plaza 680, Las Condes, Región Metropolitana). Será necesario que traigas computador, nosotr@s nos encargamos del lunch!
About the organizer
Le Wagon is a coding bootcamp that teaches students to develop web and data applications from scratch. Our cutting-edge curriculum and world-class teachers give students all the skills and tools needed to kick-start their tech career, land a job as software developers or product managers, or launch their own startup.