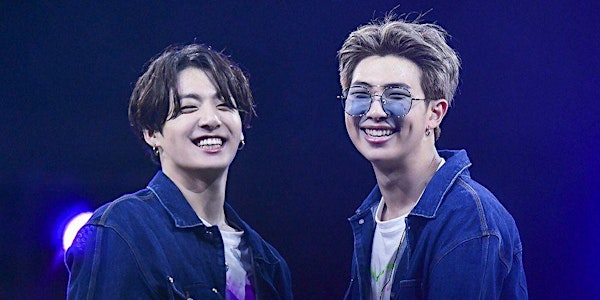 Moonchild With You
ARMY, te invitamos a celebrar el cumpleaños de Jungkook y Namjoon!
When and where
Location
Las Heras 796 796 Las Heras Temuco, Araucanía Chile
About this event
¡Hola ARMYs! Esperamos que se encuentren muy bien 🤍 tal como habrán visto en nuestras redes sociales, la cafetería Nobu (@nobucoffeeshop) ha organizado un cup sleeve event en colaboración con la fanbase Dear Bangtan Chile (@dearbangtanchile) para celebrar a nuestro líder y maknae en "Moonchild With You"!
A continuación les dejamos la información general:
🗓 Sábado 10 de Septiembre de 13:30 a 18:00.
📍Cafeteria Nobu Coffee Shop, Las Heras 796, Temuco, Chile.
🎨 El evento contará con stands de pymes relacionadas a BTS y el Kpop, además de una zona para fotografías y divertidos concursos en los que podrás participar. Además, se presentará la talentosa @lia_universe con sus bellos covers en el bloque de las 16:10 a las 16:50 hrs.
😷 Lxs asistentes deben respetar las medidas de seguridad (mascarilla, alcohol gel, etc). Se pedirá pase de movilidad sólo si consumirán dentro del local mientras ven los stands de tiendas.
❕El evento es TOTALMENTE GRATUITO.
Algunas indicaciones:
- Les pedimos que cumplan con el horario para que no retrasen al siguiente grupo en fila y el flujo sea constante.
- Recomendamos estar preparadxs para las transacciones, teniendo acceso rápido a sus tarjetas, banco online o dinero en efectivo. Además de llevar un bolsito o carpeta por si compran ilustraciones, muñecos u otra mercancía para evitar su deterioro accidental.
- Lo más importante es que SE PUEDE ASISTIR SIN ENTRADA, PERO TE PUEDES QUEDAR AFUERA HARTO TIEMPO YA QUE SE RESPETARÁ A QUIENES ADQUIRIERON SU ENTRADA.
- Por favor inscríbete solo si estas segurx de poder ir ese día, en caso de no poder asistir al evento por favor comunícate con el staff CON ANTICIPACIÓN a través de Instagram @dearbangtanchile.