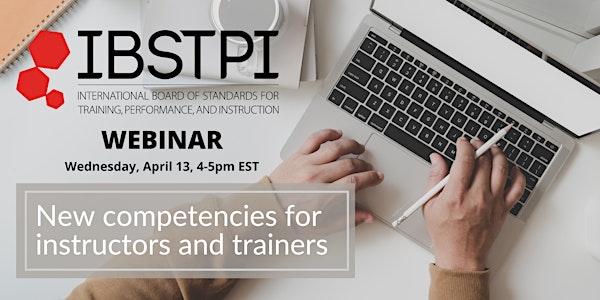 New IBSTPI® Competencies for Instructors and Trainers
Learn about the new IBSTPI® Instructor Competencies for face-to-face, blended, and online learning and the value they provide.
About this event
Join a conversation with the IBSTPI Directors responsible for the development of this new edition of the Instructor Competencies, Dr. Kathy Jackson from Penn State University, Dr. Florence Martin from the University of North Carolina Charlotte, and Dr. Albert D. Ritzhaupt from the University of Florida. Other Directors will also join the conversation.
As with all IBSTPI work, this latest version is grounded in research, theory, and evidence-based practices applicable in today's physical and digital learning environments.
Learn about:
• Our organization and our competencies framework
• Critical competencies and performance statements
• Implications and practices for the use of these competencies
The International Board of Standards or Training, Performance & Instruction (IBSTPI) formulates, validates, publishes, and advocates the adoption of standards of professional practice and ethical behavior for professionals supporting learning and development.
For more information visit our website at ww.ibstpi.org.