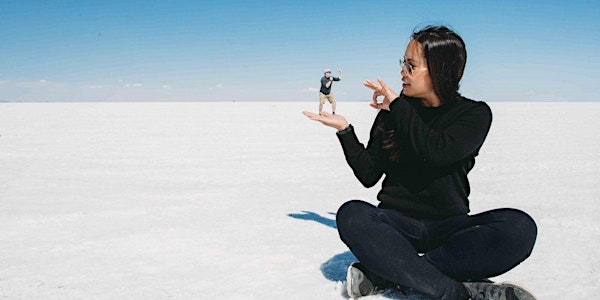 SALAR DE UYUNI FROM SAN PEDRO ATACAMA (ROUND TRIP) 4 Days & 3 Nights
from San Pedro de Atacama, Chile, and back to San Pedro de Atacama (round trip). 4D & 3N, including transport, Meals and accoomodation
Date and time
Wednesday, April 19 · 7 - 10am -04
Location
Salar de Uyuni Salar de Uyuni Salar de Uyuni, Departamento de Potosí 00000 Bolivia, Plurinational State of
Refund Policy
Contact the organizer to request a refund.
Eventbrite's fee is nonrefundable.
About this event
Highlights:
Salar de Uyuni, Colored Lagoons, Highlands Deserts, Hot Springs, Sol de la Manana Geysers, Train Cemetery and much more...
Trip Itinerary
DAY 1: GREEN AND WHITE LAGOON – POLQUES HOT SPRINGS – GEYSERS – COLORADA LAGOON.
The adventure begins at San Pedro de Atacama, in a bus transfer from your lodging to Hito – Cajon (Chile – Bolivia border). The Toyota 4×4 will wait for us there. Next we will visit the Eduardo Avaroa Reserve (REA), where you will be able to observe indescribable landscapes, such as its Colored Lagoons, White and Green Lagoons, we will pass through the Dali desert , you will enjoy a bath in the Polques hot springs, we will visit the Sol Geysers de Mañana which will be the highest point of the tour at almost 5,000 meters high, a place between fumaroles and steaming craters full of boiling mud. we will continue to Laguna Colorada to see hundreds of pink flamingos in their natural habitat and admire the intense color of the lagoon. The first day of the tour will end at the Villamar hostel and spend the night in a shared basic family lodging.
DAY 2: VILLAMAR – STONE CITY – LAGOONS – ANACONDA CANYON – CHUVICA.
The second day we will continue through the Stone City, to observe how the natural sculpted rocks in the desert. Then along the plateau we will visit Altiplanic Lagoons (Laguna Catal and Vinto) , inhabited by birds such as flamingos. We will be able to observe the Anaconda Canyon, where llamas live among other Andean animals. We will continue visiting Typical Towns of the altiplano . The second day of the tour will end in the town of Puerto Chuvica , to spend the night in a hostel in Sal.
DAY 3: UYUNI SALT FLAT – INCAHUASI ISLAND – SALT MUSEUM – VILLAMAR.
The third day of the tour we enter the Salar de Uyuni, a place full of beauty to see the sunrise , in a place that invites us to come into contact with the wildest of nature, to explore the vast white expanse of salt, where We will also visit the great Incahuasi Island , we will hike to the top of the island to see giant cacti and rock formations of petrified coral. We will take some time to take fun photos with the perspectives on the white surface of the salt flat. Then we will visit the Ojos del Salar and a Salt Museum made entirely of salt. We will visit the small town of Colchani, to see traditional and salt crafts, we will also visit the Uyuni Train Cemetery to see the first locomotives in Bolivia. We will make a break of (2 hours approx.) in Uyuni so that they can get to know the small city and buy handicrafts. Then we will start the return transfer. The third day will end in the town of Villamar, to spend the night in a family hostel.
DAY 4: VILLAMAR – HITO CAJON – SAN PEDRO DE ATACAMA.
On the fourth day of the tour, early in the morning we will return to Hito Cajon. Later we will take the bus transfer to San Pedro de Atacama.
SCHEDULE
Departure point – From your accommodation
Departure – 06:30 to 07:00 AM
Duration – 4 days (approx.)
Arrival point – Office or parking lot (Downtown San Pedro de Atacama).
Arrival – 13:00 to 14:00 (approx.). It could be delayed 1 to 2 hours due to weather problems.
SANITARY REQUIREMENTS:
To Bolivia
Foreign citizens regardless of their vaccination status and purpose of travel can enter Bolivia.
To Chile
Is a negative COVID-19 test (PCR and/or serology) required for entry? No
Travelers who are under 18 years of age do not have any requirements to enter Chile.Unvaccinated travelers are allowed but they must have a negative result in a PCR test within a maximum of 48 hours from departureMasks: Not Required in public spaces and public transportation.
IT INCLUDES
First night – basic family accommodation (Villamar). Dorms for 6 people / Showers not available.
Second night – Hostal de Sal Double rooms. (Hostal de Sal) / double rooms / Showers available, (they may have a small local cost of 10 bs)
Third night – Villamar family hostel / double rooms or dorms depending on availability / Showers available (may have a small local cost of 10 bs)
Transfer by minibus – from San Pedro de Atacama – Hito Cajon (Chile – Bolivia border).
Transfer by minibus – from Hito Cajon – San Pedro de Atacama (Chile – Bolivia border).
Transportation by 4×4 – (group size is up to 6 people per car).
Driver guide – Local guide in Spanish.
Meals – 4 breakfasts / 3 lunches / 3 dinners.
DOES NOT INCLUDE
Entrance – Eduardo Avaroa Protected Area (150 Bs), Polques Hot Springs (6 Bs), Incahuasi Island (30 Bs), Border Tax (17 Bs) (these costs are subject to change without prior notice)
Refreshments – additional snacks and bottled water.
Use of bathrooms – on the way (20 Bs approx.)
Hot showers – on the second and third nights. (20 Bs approx.)
Tips – (optional)
Airport transfers.
Personal expenses.
Travel insurance
WHAT TO BRING
Passport and/or Identity Card – Do not forget to bring the necessary documentation to leave the country. Foreigners carry entry card to Chile (PDI)
Flashlight – lights turn off when generator runs dry.
Extra money in Bolivian pesos – We recommend bringing a minimum of 300 Bs p/p for tickets and other additional expenses en route.
Sunglasses – The salt flat is white, this can affect your sight.
Camera, extra battery – To not run out of battery, to take the best photos of your life. If doing the 3 day tour you will usually be able to recharge your batteries on the first night (3 hours of electricity) and a bit on the second night (24 electricity with a generator).
Extra water – The tour provides only during meals. An additional 2 liter bottle per day.
Sun cream and hat – At more than 3,600 meters above sea level there are high levels of ultraviolet radiation from the sun.
Sleeping bag – It can be rented at the lodges, but it is better to bring one. You will be sleeping up to 4,300 meters as temperatures can drop to -15ºC during the winter.
Warm clothing – Wear several layers of clothing.
Sandals – Bathrooms are shared.
Bathing suit – For the Polques hot springs
Toilet paper – Hostels in regular services are basic.
Towel – Not available during the tour.
Snacks – The food is adequate in quantity but you can bring something extra for between meals.
Lip cream – Sun and wind and dry air crack them.
Baggage – Per person you can carry a handbag and a backpack or suitcase.
SHARED ACCOMODATION
$250/person
Hotel Pickup
Local guide in Spanish
Shared Accomodation
Meals – 4 breakfasts / 3 lunches / 3 dinners.
PRIVATE ACCOMODATION
$350/person
Hotel Pickup
Local guide in Spanish
Private Accomodation & Private bathroom
Meals – 4 breakfasts / 3 lunches / 3 dinners.