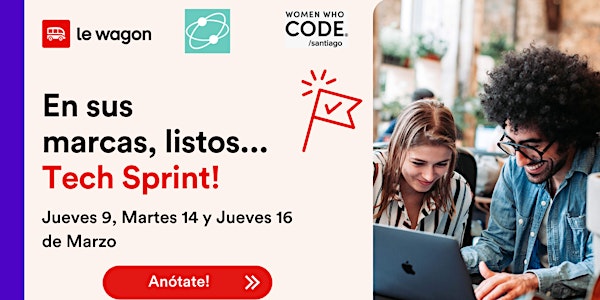 Tech Sprint by Le Wagon: 3 workshops + la posibilidad de pitchear tu idea
Le Wagon, Bootcamp reconocido #1 a nivel global, trae para ti TECH SPRINT.
By Le Wagon Santiago - Coding Bootcamp
Date and time
March 9 · 6pm - March 16 · 8pm -03
Location
ONLINE REMOTE Santiago, 0 Chile
About this event
Le Wagon, Bootcamp reconocido #1 a nivel global, trae para ti TECH SPRINT.
¿Qué es TECH SPRINT?
Consiste en 2 workshops (online) y 1 sesión presencial.
En este evento de tres jornadas, podrás experimentar como una idea pasa de tu cabeza a un producto digital funcional!
¡Prepárate para aprender las bases un gran developer!
¿A quién va dirigido?
A emprendedores(as), personas que quieran lanzar su start-up o personas que quieren aprender habilidades tech.
¿Qué aprenderás?
Herramientas para crear el prototipo de tu producto digital.Acercamiento a la programación para liderar equipos de trabajo y gestión de proyectos Tech.Acercamiento al análisis de datos para darle un boost a tu emprendimiento. Presentar un pitch con inversionistas.
¡Nos vemos pronto!
¿Te interesa sumarte como Partner de difusión? Llena tus datos aquí✨
Agenda
6:00 PM - 8:00 PM
9 de Marzo - Online "Prototipa y Desarrolla tu producto digital"
---
Imagina y haz el boceto de tu producto digital, utilizando Figma.
6:00 PM - 8:00 PM
14 de Marzo - Online "Crea tu propia Landing Page"
---
Sube el nivel dándole estructura y estética a tu proyecto.
6:00 PM - 8:00 PM
16 de Marzo -Presencial / online "Web Scrapping"
---
Aprende los usos del Web Scrapping para extraer datos de manera efectiva.
About the organizer
Le Wagon is a coding bootcamp that teaches students to develop web and data applications from scratch. Our cutting-edge curriculum and world-class teachers give students all the skills and tools needed to kick-start their tech career, land a job as software developers or product managers, or launch their own startup.