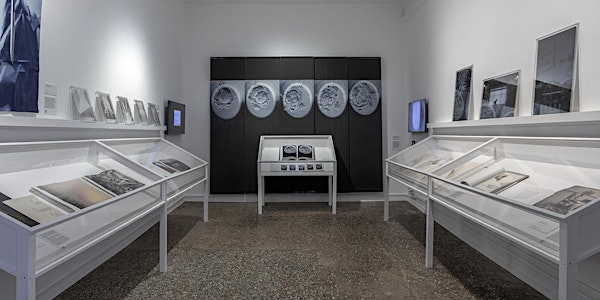 TRANSITIONS AND TRANSFORMATIONS; A CONVERSATION WITH THE ARTISTS
TRANSITIONS AND TRANSFORMATIONS; A CONVERSATION WITH THE ARTISTS AND RESEARCHERS, Moderated by Art Historian Jane Chin Davidson
When and where
Location
European Cultural Centre (ECC) - Palazzo Michiel 4391 Strada Nova 30121 Campo Santi Apostoli, Venezia Italy
About this event
Symposium, September 22, 2022- 16:00-18:00
TRANSITIONS AND TRANSFORMATIONS; A CONVERSATION WITH THE ARTISTS AND RESEARCHERS, Moderated by Art Historian Jane Chin Davidson
THE EUROPEAN CULTURAL CENTER , Palazzo Michiel Venice, Italy
In Person and WEBINAR-https://reed-edu.zoom.us/s/93760793580
Please join us for a conversation moderated by Jane Chin Davidson with the artists and researchers in the exhibition Transition and Transformation, the Constant Flux of our Personal Structures, Geraldine Ondrizek and Reed College Associates. This symposium creates an opportunity for participants to discuss their works in relation to the multiple overlapping factors causing major environmental and socio-political transitions globally;
Biological Factors, the effects our environment is having on the genetics and epigenetic of plants and animals;
Environmental Factors, the impact of climate change on landscapes and human livelihoods;
Socio-Political Factors, mass migration and forced immigration, affecting indigenous population and homelessness worldwide.
Chin Davidson and Ondrizek will begin the discussion by introducing the interconnectedness of each of these "transformational" factors. Ondrizek will reflect on the genetics end epigenetic changes that occur during The First 100 Days of gestation in all living creatures and how climate change and social political upheavals can affect this process. Our conversation will focus on those who live in environmentally fragile landscapes such as in Chile and the Caribbean and how groups of artists, citizens and researchers are working to face these challenges. This will lead to our discussion on forced migration resulting from both environmental and political circumstances, illustrated by those who fled to refugee camps in Europe and homeless youth in the US. The final set of questions will focus on the socio-political turmoil that has impacted the lives of many represented in the exhibition, particularly the young artists from India and Myanmar and the way their works are helping others to understand their circumstances.
Introduction: LUCIA PEDRANA , Exhibition Organizer , Head of University Relations, ECC Italy
Moderator: Jane Chin Davidson Professor of Art History/Global Cultures, California State University, San Bernardino. Researcher/Curator of eco-feminist art, eco-performance, Chinese identity.Chin Davidson's recent publications include the forthcoming Companion to Contemporary Art in a Global Framework (Wiley-Blackwell, 2023) co-edited with Amelia Jones, the monograph Staging Art and Chineseness: Politics of Trans/Nationalism and Global Expositions (University of Manchester Press, 2020) and the co-edited volume Global and World Art in the Practice of the University Museum (Routledge, 2017). Graduating from the University of Manchester with the PhD Award of Distinction, receiving her BA in Art History from Reed College, Chin Davidson was a Economic and Social Research Council Fellow, a Getty Research Institute Postgraduate Fellow, serving also on the editorial board of Art Journal and the NWSA Women of Color Leadership project. She is currently Professor (Head) of Art History/Global Cultures at California State University, San Bernardino, serving as the DEI Fellow for the Faculty Development Program. Jane Chin Davidson | CSUSB
Speakers In Person and Works in the Show:
Geraldine Ondrizek, Professor of Art, Artist, Curator. Reed College, Portland Oregon
The First 100 Hours, Artist book, silk panels and film. Made in collaboration with Dr. Shizuko Takahashi at the University of Tokyo, Department of Biomedical Ethics. This work originated from in vitro fertilization films with each still image capturing the most significant stages of early egg development. The film stills document the most important moments when genetic and epigenetic factors develop to create each unique being.
Genevieve Gaiser Tremblay Innovation Strategist, Catalytic Innovators Group , Seattle Washington, Adjunct Researcher, Instituto Milenio en Socio-Ecología Costera SECOS, Concepción, Chile.
Tiempos de Muralismo,Murals on the coast of Chile. Done with Coastal Social-Ecological Millennium Institute (SECOS) and Fernanda X. Oyarzún who led the co-creation of a series of site based murals by Chilean muralist Alonso Salazar that reach deeply into 7 fishing communities.
Fernanda Oyarzún Investigadora Asociada, Instituto Milenio en Socio-Ecología Costera (SECOS), Facultad de Ciencias & CIBAS, Universidad Católica de la Ssma. Concepción, Chile Escultora e Ilustradora Científica Sara Olivia Fuentes, Artist, Chile, Bachelor of Fine Arts, University of Concepción, Master in Social Research and Development (UdeC).
Simbiosis: Mujeres Creadoras de Cordillera a Mar, Artist book, photographs and video made in collaboration with Almacén Editorial and video made in collaboration with Roberto Varas. Simbiosis is a co-creative journey through the territory and maritorio of the Biobío region in Chile, from the Andes to the sea.
Stephanie Gervais, Artist, San Paulo, Brazil
Badr, Artist book, embroidered quilted blanket, sound recording. The text inscribed on the blanket is a seven-page story written in Arabic by Badr, a man from South Sudan, who shared his story with Gervais in 2018. The story chronicles his life, beginning with his kidnapping in South Sudan as a child, followed by his journey to Europe.
Sai , Artist, Yangon, Myanmar
Trails of Absence ,Archival digital prints, video. Sai Blank's ongoing work follows the political turmoil that has engulfed Myanmar since the coup of 2021 and specifically the trauma inflicted on his own family, exploring the dramatic narrative of the relationship between his father, who has been held as a political prisoner by the Burmese junta since the coup, and his mother, who lives under 24 hour surveillance and in constant fear.
Speakers Online and Works in the Show:
Nili Yosha, Executive Director, Outside the Frame, Portland Oregon
Outside the Frame trains homeless and marginalized youth to be directors of their own films and lives. Young people who are experiencing homelessness are provided a creative outlet, job training, a public platform, a sense of dignity and possibility.
Ann Wettrich Director of Programs and Administration, Emergent Artspace, San Francisco, California
Emergent Art Space is a nonprofit international organization based in San Francisco, California, whose mission is to promote young artists around the world and to foster cross cultural exchange, dialogue and understanding through art. EAS website features young artists from more than 50 countries. We have organized international exhibitions in Portland Oregon, San Francisco (US); Tijuana, Mexico; Seoul, South Korea; Kolkata, Delhi, Bangalore, India; Dar es Salaam, Tanzania; Lusaka, Zambia; Yangon, Myanmar. Link to EAS Artists in Transitions and Transformation.
Jayeti Bhattacharya, Artist, Kolkata, India
Interference: Where Do We Belong, Artist book, drawings. Interference: Where Do We Belong is a body of drawings which has been conceptualized around the idea of how external forces cause disruptions in the normal course of events. Referencing the Partition of India along religious line (Hindu and Muslim) in 1947, which her family witnessed, she created the drawings in the form of waves of motion, movement and migration.
The work in this exhibition was made possible through generous grants from; the Oregon Arts Commission, The Ford Family Foundation, Reed College, Emergent ArtSpace, Outside The Frame, ANID Millennium Science Initiative Program, Millennium Institute SECOS, Fondart Regional 2020, Chile.