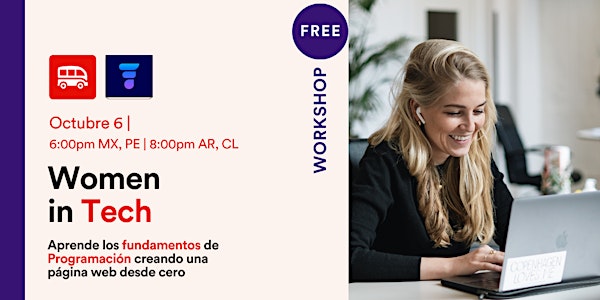 Women in Tech: Aprende los fundamentos de Programación
Women in Tech es una tarde entre mujeres donde aprenderemos a programar desde cero creando una página web. ¡Nos encantará conocerte!
By Le Wagon Santiago - Coding Bootcamp
Date and time
Thursday, October 6, 2022 · 8 - 9pm -03
Location
ONLINE REMOTE Santiago, 0 Chile
About this event
¿Sabías que el Banco Interamericano de Desarrollo (BID) pronostica que para el 2025 Latinoamérica requerirá 1,2 millones de desarrolladores de software para cumplir con la demanda de empleo en este campo?
Sin duda queremos que más mujeres también sean las que cubran estas oportunidades.
Es por ello que Le Wagon, escuela internacional de programación y Tecla, plataforma de ofertas laborales remotas, hemos sumado esfuerzos para traer este workshop y capacitar a más mujeres en tecnología.
¿Qué aprenderás en este workshop?
- Podrás crear tu propia página web conociendo sobre Experiencia de Usuario (UX), Interfaz de Usuario (UI) y HTML y CSS
- Aprenderás conceptos de Desarrollo Web por si tienes que dirigir o comunicarte con algún desarrollador web.
¡Te esperamos!
🗓️ ¿Cuándo? - Jueves 6 de octubre 18:00hrs MEX,PE | 20:00hrs AR, CL
Nos vemos pronto!
About the organizer
Le Wagon is a coding bootcamp that teaches students to develop web and data applications from scratch. Our cutting-edge curriculum and world-class teachers give students all the skills and tools needed to kick-start their tech career, land a job as software developers or product managers, or launch their own startup.