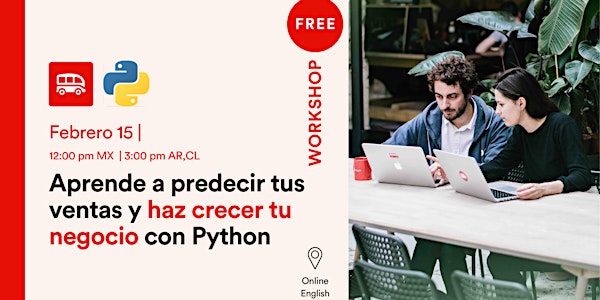 Workshop gratuito: Aprende a predecir tus ventas y haz crecer tu negocio con Python
Python es un lenguaje de programación poderoso que puede ayudar a hacer predicciones precisas de acciones al extraer y analizar datos.
By Le Wagon Santiago - Coding Bootcamp
Date and time
Wednesday, February 15 · 3 - 4pm -03
Location
ONLINE REMOTE Santiago, 0 Chile
About this event
En 2 horas este workshop online, usaremos Python para hacer dos tipos de predicciones:
Predicción de ventas - una técnica que es crucial para cualquier negocio en crecimiento, ya sea si estas buscando anticipar costos, inventario, ventas u otras métricasStock predictions - porque no existe algo como "muchas herramientas" para mejorar tus finanzas personales! Acerca del Workshop:
Tendrá una duración de 1 hora donde se te explicará la teoría y se hará un demostración práctica sobre el contenido y después te daremos acceso a nuestra Plataforma de aprendizaje donde podrás tener acceso a los contenidos y ejercicios para que puedas seguir practicando.
Acerca de Le Wagon
Somos la escuela internacional de Programación, reconocida como la #1 a nivel mundial por las evaluadoras Switch up Report y Course Report. Ofrecemos Bootcamps de Desarrollo Web y Data Science y ser parte de una comunidad internacional con más de 15,000 egresados con presencia en más de 45 ciudades de todo el mundo, generando impacto en la vida de científicos de datos, programadores, diseñadores, emprendedores, nómadas digitales o personas interesadas en cambiar de carrera.
💻  Link de stream
About the organizer
Le Wagon is a coding bootcamp that teaches students to develop web and data applications from scratch. Our cutting-edge curriculum and world-class teachers give students all the skills and tools needed to kick-start their tech career, land a job as software developers or product managers, or launch their own startup.