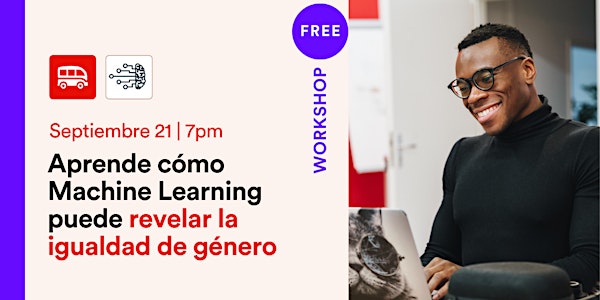 Workshop gratuito: Revela la (des)igualdad de género con Machine Learning
Workshop gratuito online
By Le Wagon Santiago - Coding Bootcamp
Date and time
Wednesday, September 21, 2022 · 7 - 8pm -03
Location
ONLINE REMOTE Santiago, 0 Chile
About this event
Crearemos un modelo de Machine Learning usando Python & sus librerías
Te sumergirás en los conceptos básicos acerca del Machine Learning (aprendizaje automático) con Python y verás ejemplos de la vida real.
En este workshop aprenderás:
Qué es Machine Learning.
Qué NO es Machine Learning.
Quiénes ejecutan Machine Learning.
Cómo crear modelos de Machine Learning por ti mismo.
Acerca del workshop
Este workshop tendrás el apoyo de alguno(a) de nuestros(as) expertos(as) y además te daremos acceso a nuestra plataforma de aprendizaje donde tendrás acceso a los ejercicios prácticos y al contenido del Workshop.
Acerca de Le Wagon
Le Wagon, es una escuela internacional de Programación reconocida como #1 a nivel global. Surgió en 2014 como uno de los primeros Bootcamps de Programación en Francia, ofreciendo programas de Desarrollo Web y Ciencia de datos. Ahora es una comunidad global de talento tech con más **15,000 egresados que comenzaron su carrera tech como desarrolladores, científicos de datos, diseñadores y/o emprendedores en 45 ciudades alrededor del mundo (Ámsterdam, Berlín, Lisboa, Londres, Melbourne, México, Montreal, Argentina, Perú, Chile, Singapur, São Paulo, París, Tel Aviv y otras ciudades del mundo).
Conoce más sobre nosotros aquí
About the organizer
Le Wagon is a coding bootcamp that teaches students to develop web and data applications from scratch. Our cutting-edge curriculum and world-class teachers give students all the skills and tools needed to kick-start their tech career, land a job as software developers or product managers, or launch their own startup.